Oh Northern California, your beautiful and dynamic landscape makes it hard for couples to decide on the best location for their wedding or elopement. It might seem overwhelming to start the process of choosing a wedding venue, so we are here to help tell you why Northern California is a great place to find the ideal spot. We think the following wedding venues are truly extraordinary! Whether you are looking for a rustic farm elopement, saying "I do" in the rolling hills of a vineyard or having your festivities with a back drop of most magnificent Pacific Ocean views – northern California has it all! (Cover Photo Courtesy of Tammie Gilchrist Photography at the Albion River Inn garden and terrace)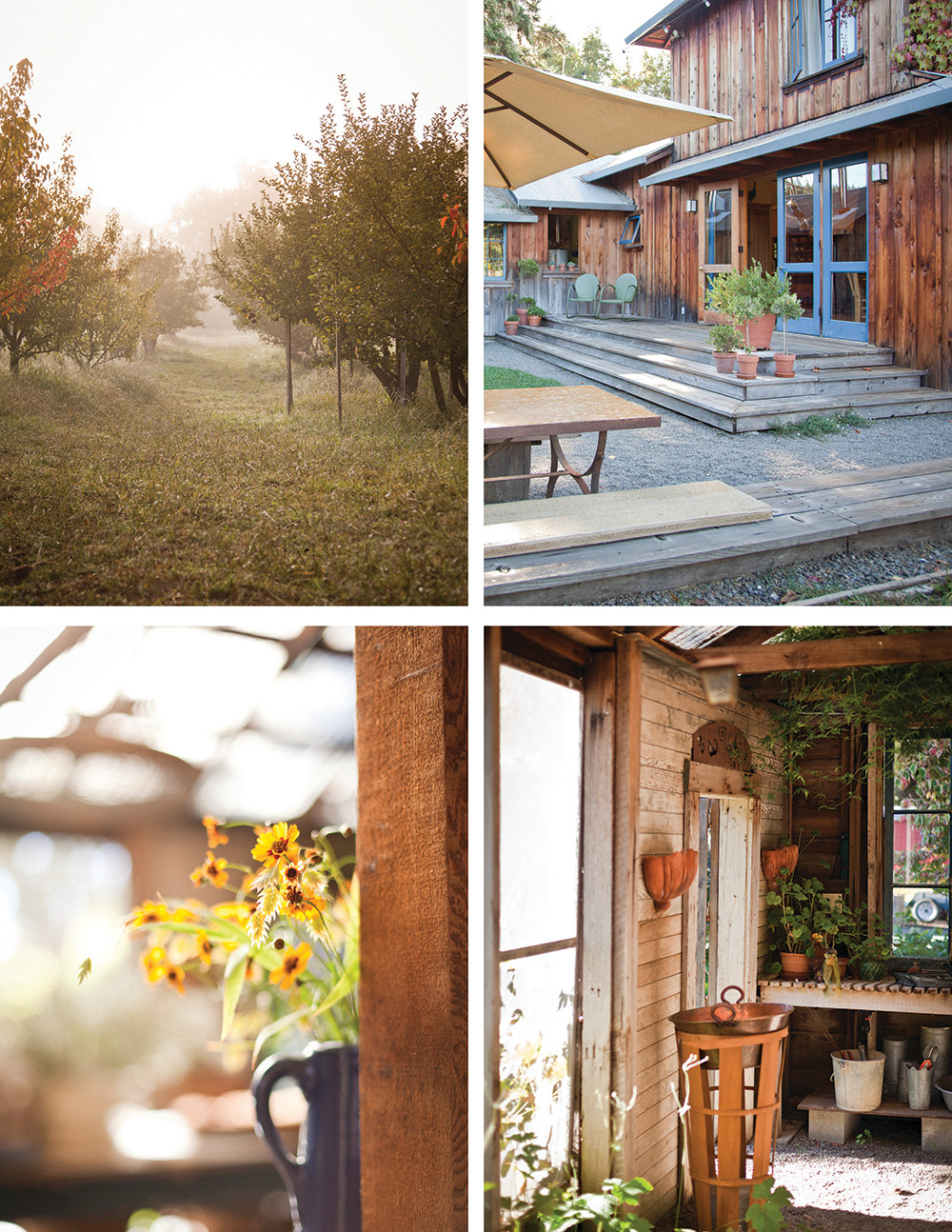 #1: PHILO APPLE FARM – THE QUINTESSENTIAL RUSTIC WEDDING
The Apple Farm is a beautiful setting for your Anderson Valley wedding, family gathering, or milestone birthday party. It is a wonderful place for generations of your family to come together to celebrate and benefit from the Apple Farm's generations of experience. They specialize in designing and creating a complete event that showcases all of their many talents and offerings, and only take on a few a year so that they can make each one special.
If you are interested in holding your event at the Apple Farm, please take a look at the Apple Farm Wedding and Gathering Information Document, visit the Reservations page to see available dates, and send an email with your request. Prices and property use-fees are generally adjusted for non-wedding groups. Such celebrations of up to 70 people can be done with a reduced use fee or a minimum charge.
To get an idea of what their food is like for gatherings, take a look at the seasonal Sample Menus.
Rita does beautiful flower arrangements with materials straight from their own gardens!
The staff at Philo Apple Farm gets great pleasure from seeing their beautiful space filled with families and friends, taking a little time out of their busy schedule to get back in touch with a slower lifestyle. (Photos and Text Courtesy of Philo Apple Farm)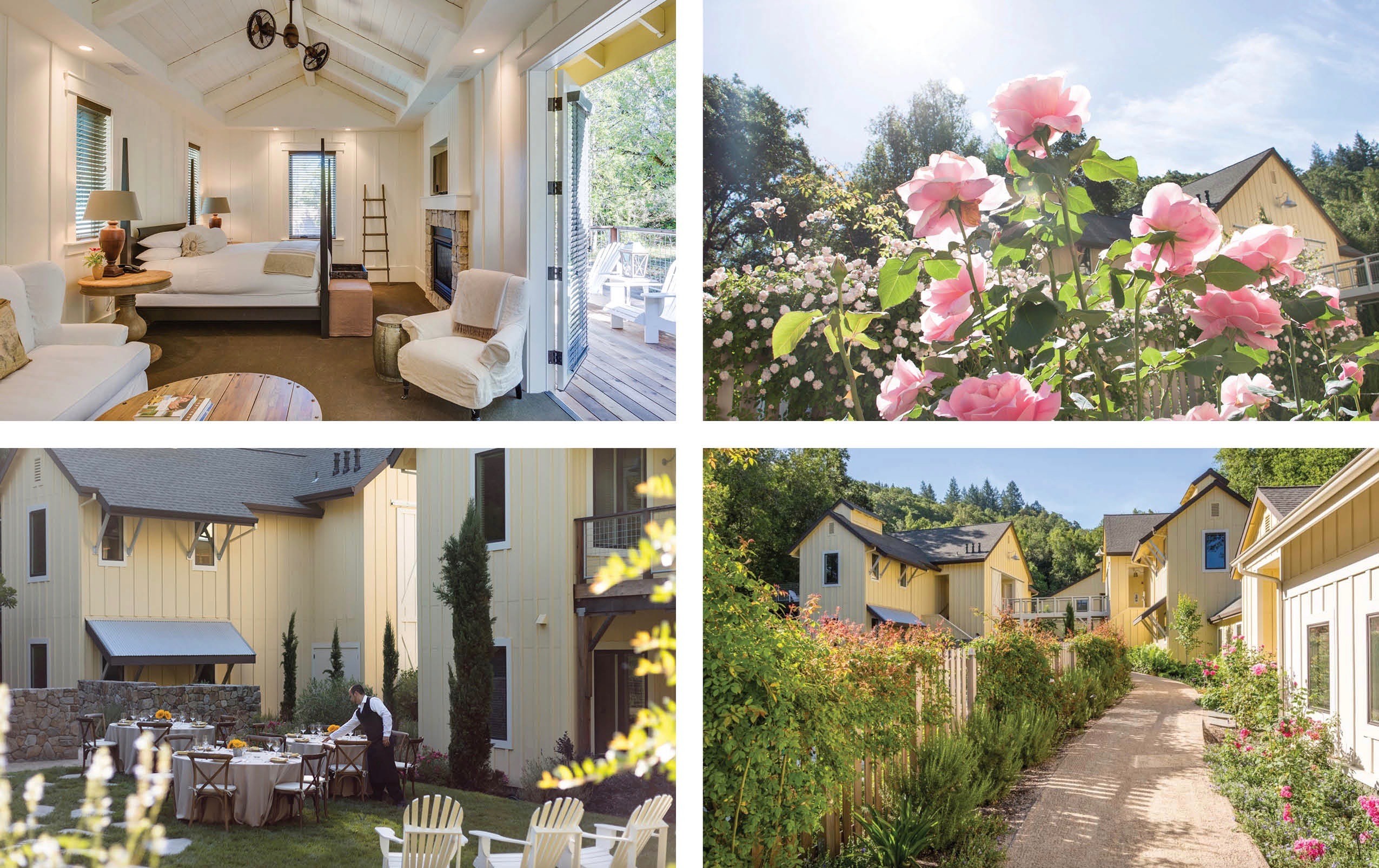 #2: THE FARMHOUSE INN – THE PERFECT CHIC WINE COUNTRY SETTING
Dreaming of the charm and romance of a wine country wedding without the headache of planning it yourself? Farmhouse Inn offers a trio of wedding packages, each featuring an intimate ceremony at the Inn, a customized Farmhouse floral bouquet and boutonniere, and the expert services of their Wedding Coordinator. And speaking of romance, their proposal and honeymoon packages are the most magical you'll find anywhere. What more can you expect from one of the most romantic hotels in the world (Travel & Leisure)? (Photos and Text Courtesy of The Farmhouse Inn)
Imagine exchanging your vows while feeling the ocean breeze. Having the Pacific as a backdrop during your wedding certainly elevates your experience. What a dazzling setting at the Albion River Inn with its oceanfront restaurant, lawn terrace and gardens overlooking the coastline.
These breathtaking views, Chef Stephen Smith's culinary talents, and fine wine selection combined with the personalized attention of our wedding coordinator and staff make Albion River Inn the ideal place to have your special wedding. We will customize your event to suit your needs. We can host ceremonies, elopements, receptions, and rehearsal dinners. Albion River Inn is built on ten acres with 22 rooms and an 80 seat restaurant and bar, all of it directly on the Albion Cove Cliff and Ocean front. The whole facility is available for weddings and special events.
For additional information and reservations Please contact our Wedding Coordinator at 1-800-479-7944 Ext. 194. Or email us at weddings@albionriverinn.com. Wedding coordinator services are included.
An Albion River Inn Elopement Package is also perfect for couples that prefer to exchange their vows in private, or in the company of just a few close loved ones. Albion River Inn's romantic seaside setting, with its charming ambiance, comfortable luxury, and dramatic ocean views, offers everything needed for the carefree and joyful wedding of your dreams.
Albion River Inn offers two elopement packages, which include the essentials for your ceremony and some of the most often requested extras. These packages are a great place to start, but we will gladly customize a package for you. All you need to do is pick the date and our wedding coordinator will handle all the details.
Elopement Packages are available with any stay at Albion River Inn. Saturday and Sunday dates can be reserved no more than three months in advance.
Exclusive Use of our Oceanfront Lawn Terrace for Your Ceremony
Officiate
Your Choice: Ceremony Flowers (Bouquet & Boutonnière) or Large Floral Arrangement (In-Room, Upon Arrival)
Small Wedding Cake for Two
A Bottle of Local Sparkling Wine
Photography Services (1.5 hours of photography, access to digital photo files & printing rights)
Two 75-minute Relaxing Massages
Your Choice: Fruit, Cheese & Wine Basket (In-Room, Upon Arrival) or A Picnic Lunch for Two (delivered to your room during your stay)
Exclusive Use of our Oceanfront Lawn Terrace for Your Ceremony
Officiate
Your Choice: Ceremony Flowers (Bouquet & Boutonnière) or Large Floral Arrangement (In-Room, Upon Arrival)
Small Wedding Cake for Two
A Bottle of Local Sparkling Wine
Available package add-ons include: bridal hair and makeup, ceremony musicians and a private luncheon in our oceanfront dining room. Please inquire for pricing.
Additional guests are welcome. There will be a fee for each additional guest.
We welcome your requests for customized packages. Please contact Chelsea Strupp at 707-937-1919, or chelsea@albionriverinn.com.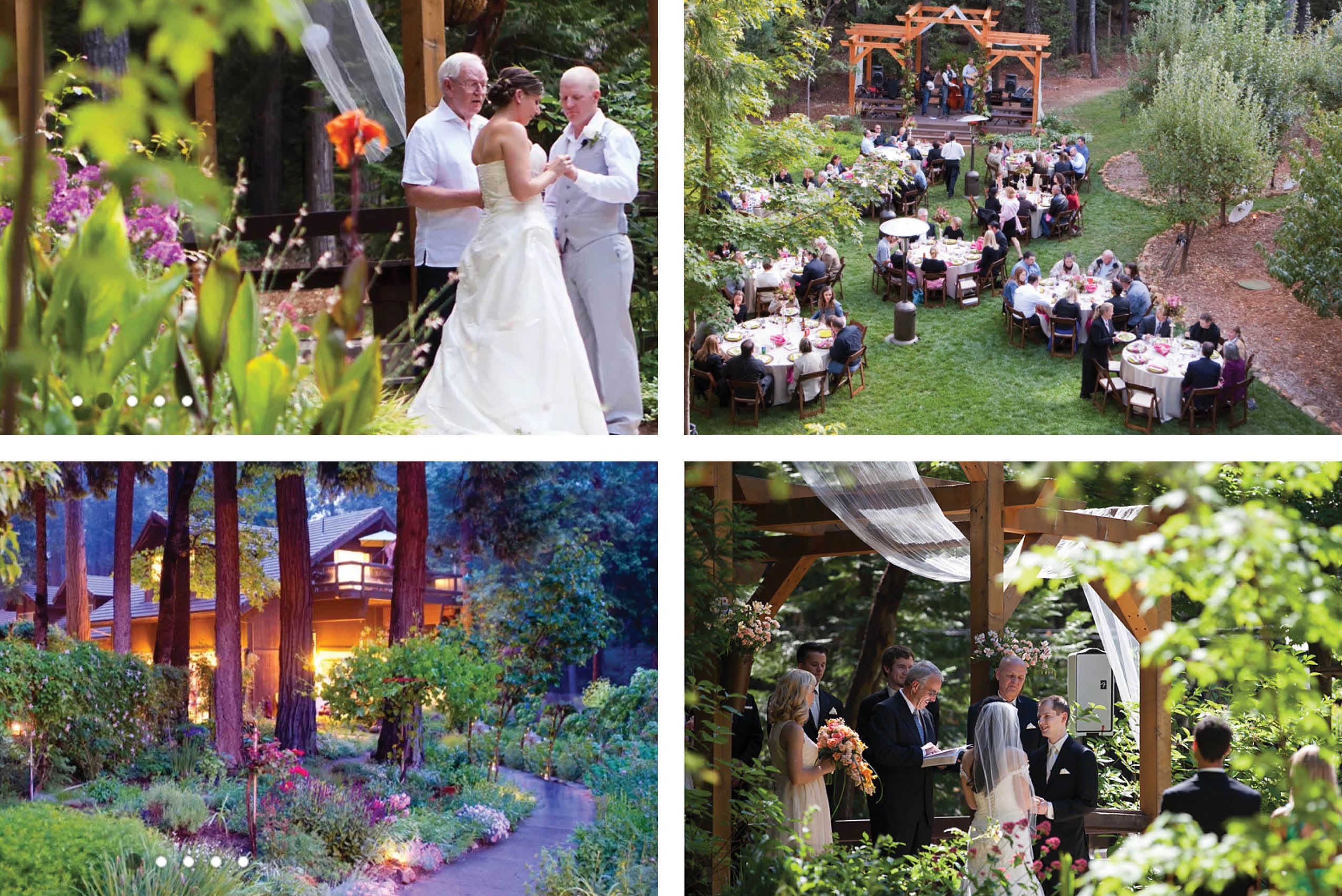 #4: HARMONY RIDGE LODGE – INTIMATE WEDDING SURROUNDED BY THE REDWOOD FOREST
The 5 acre, private mountain estate is an exquisite setting for your most heartfelt and cherished celebration. Your loved ones can gather together to relax and revel — and it's all yours for the entire weekend. With an event lawn, pergola, perennial gardens and surrounding pine forest, Harmony Ridge Lodge is an ideal location for an intimate wedding or anniversary for up to 150 guests.
Outdoor garden weddings are scheduled from May to October.
Intimate indoor weddings (for up to 40 guests) are scheduled from late October to April.
Families find HRL an excellent venue to come together and bond
A celebration-vacation (week-long celebrations).
The lodge offers
Indoor and outdoor spaces for weddings and receptions
A 750 square foot canopied deck for dancing
A new commercial kitchen for caterers
A light-filled studio for bridal party preparation
Eight luxury guest suites sleeping up to 25 for your out-of-town guests
Breakfast for your lodge guests on Saturday and Sunday.
Dog-friendly for our four-footed best friends
ADA compliant
As a future bride and groom Harmony Ridge Lodge encourages you to stay with them to fully experience the beauty of their wedding venue and the hospitality of their innkeepers.
Harmony Ridge Lodge works seamlessly with your own caterer, florist, musicians, officiate, coordinator and photographer. Check out their preferred vendors page. (Photos and Text Courtesy of Harmony Ridge Lodge)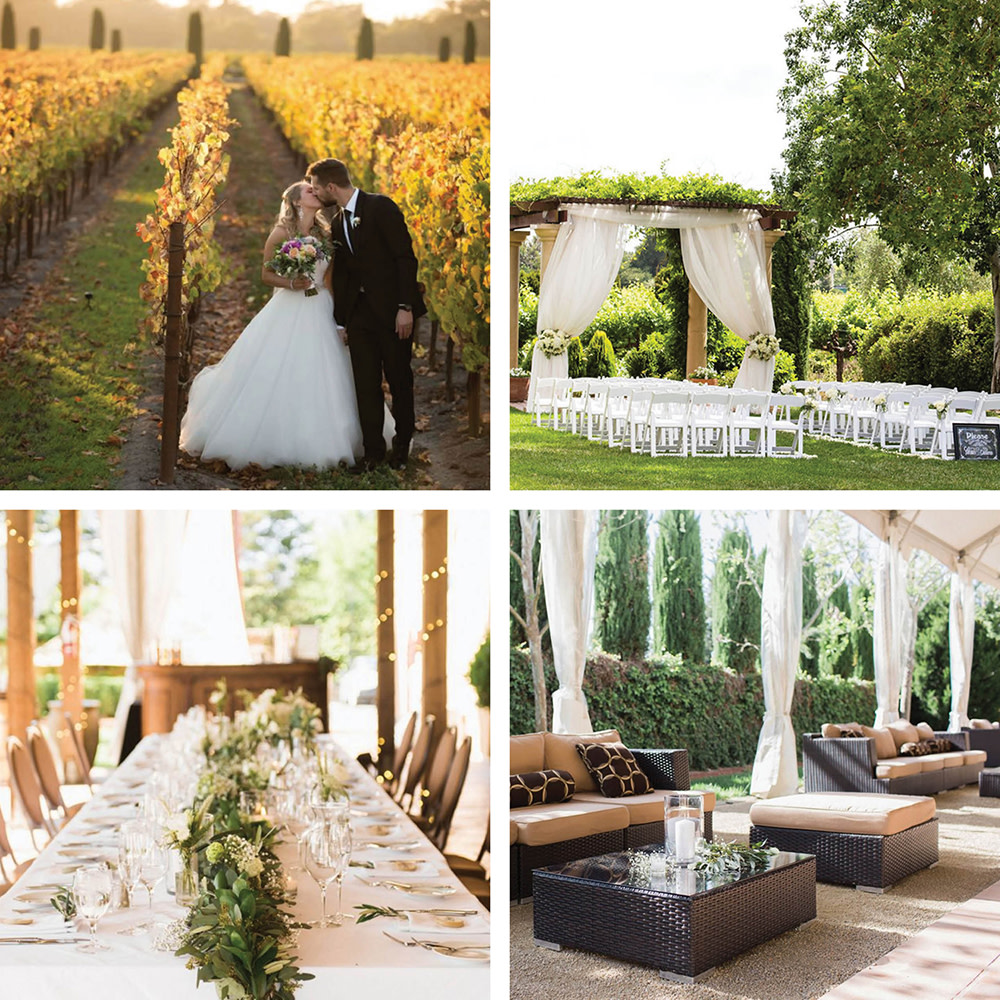 #4 Vintners Inn – Luxury Sonoma County Wine Country Wedding Venue
Whether planning a grand destination Sonoma wedding for a few hundred people or an intimate occasion for a select few, begin your lives together at this romantic wine country resort, the perfect setting to gather and celebrate. You and your guests will delight in the stunning vineyard views, flawless lawns and flower gardens, and award-winning cuisine from the nationally-acclaimed John Ash & Co. restaurant.
Situated on 92 acres of vineyards, Vintners Inn's Sonoma resort is ideal for your wine country wedding. Their Events Centerboasts a spectacular 35-foot bell tower entrance and fountain, walls of windows, exquisite décor, lovely terraces and landscaped gardens. Multitudes of flowers and an outdoor fireplace add to the pastoral charm of the property. Inside, there are dramatic wood and stone surfaces, vibrant wall coverings, beautifully detailed ceilings, rich fabric furnishings, and views that showcase our spectacular vineyard setting. Have a dream ceremony on Vintners Inn Wedding Pavilion overlooking the vineyards or indoors with lit beamed ceilings and stone alcoves.
Their wedding specialist will guide you, from the wedding shower and rehearsal dinner to the ceremony and reception. They will assist you with the Sonoma wedding of your dreams, just as you envision it! (Photos and text courtesy of Vintners Inn)
There is clearly an abundance of wedding and elopement venues in Northern California, not to mention the entire state! It's easier to start narrowing your choices down by asking – will I be having a large wedding or a small wedding or elopement? Do I want my guests to be able to stay at the wedding venue location or find accommodations nearby? What kind of surroundings do I want – vineyard, forest, gardens, ocean view? And then, do I want a venue that has comprehensive wedding services or do I want to handle finding and hiring each service? As you go down the list of questions, you will start narrowing down your choices and hone in on the perfect location!
The wedding experience of your dreams is at your fingertips. We hope these various samples of beautiful Northern California Wedding Venues will inspire you.
May your wedding be filled with special memories you can treasure forever.
Follow Albion River Inn on Facebook and Instagram to stay up to date on our latest blog posts and promotions!
~The Albion River Inn