PICNIC ON THE BEACH
There are a number of beautiful, quiet Mendocino Coast beaches in the surrounding area. Order a bottle of wine or champagne and a fruit and cheese picnic basket at the Albion River Inn front desk and spend the day lounging in the warm sand, listening to the waves rolling in and out. Take a break from snacking to dip your toes in the soothing water and look for shimmering pieces of Abalone in the sand! (top left photo is of Caspar beach and bottom right is JugHandle State Park beach).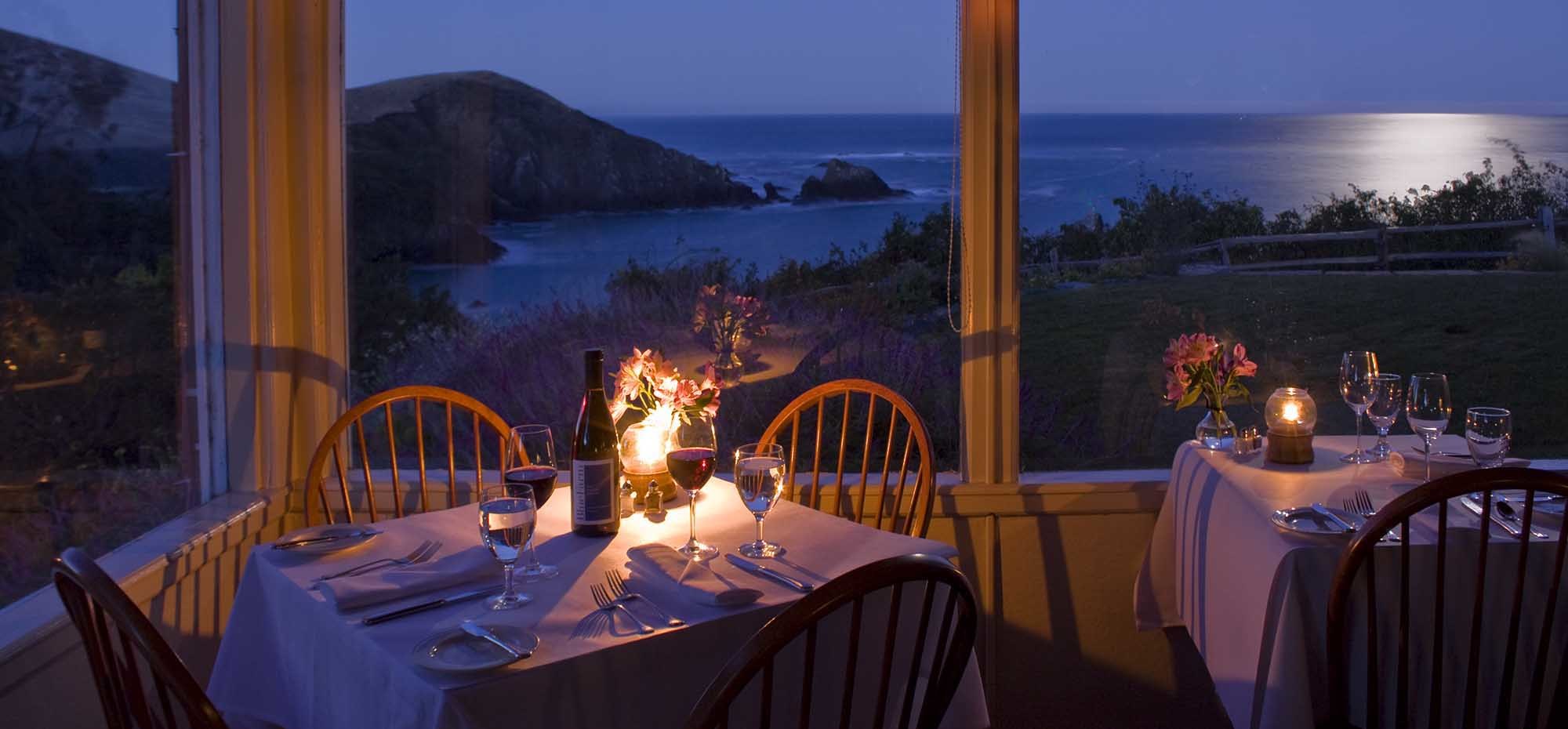 ENJOY DINNER IN A ROMANTIC SETTING WITH AN OCEAN VIEW
There are only a few restaurants on the Mendocino Coast that offer ocean-view dining. Fortunately, the Albion River Inn Restaurant is one of them! So come and enjoy the stunning ocean view from any seat in the house and delight in a special meal created for you by Chef Stephen. Candle light, delicious food, an extensive wine list and a breathtaking sunset – how much more romantic could it possibly get?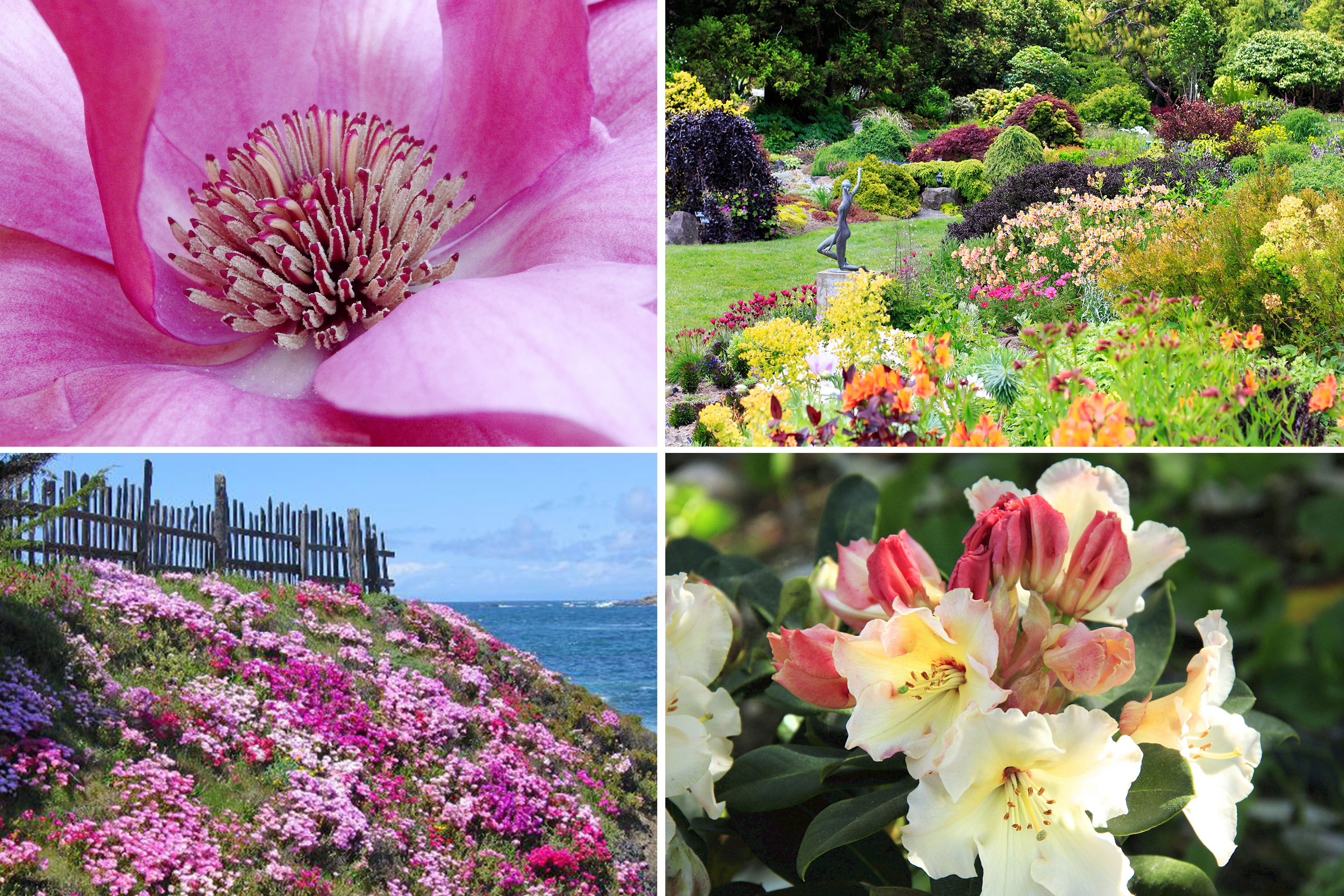 VISIT THE MENDOCINO COAST BOTANICAL GARDENS
The Mendocino Coast Botanical Gardens is a 47-acre unique natural treasure that stretches from Highway 1 to the Pacific Ocean. There are flowers blossoming all year round so it's always a good time to visit. Now in January and throughout the Spring season, go on romantic walks and feast your eyes on the property's seventy magnificent, blooming Magnolia trees of 40 diverse species. Being surrounded by that kind of beauty makes everything more romantic. Photos Credit: Mendocino Coast Botanical Gardens.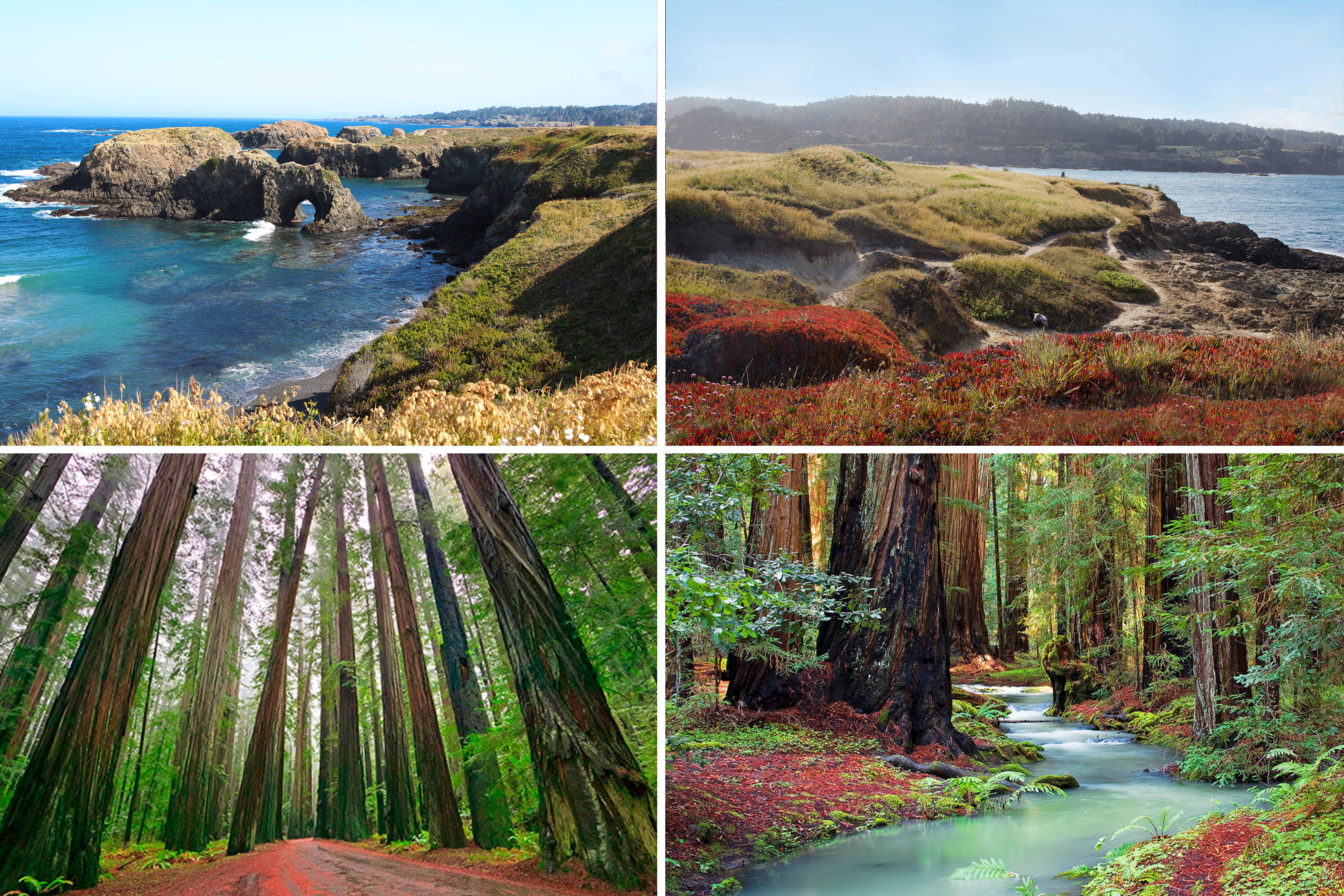 TAKE A ROMANTIC STROLL ALONG THE HEADLANDS OR THROUGH THE REDWOOD FOREST
In order to increase your "Joie de vivre", while staying at the Albion River Inn, you can stroll through the adjacent magical parks. Mendocino Headlands Park (top left and right photos) has a unique blend of gentle trails, secluded beaches and rugged coastline. And it is free! You have great views of the bluffs and can hear the waves crashing on the rocks. Easily walk into the Village of Mendocino for a stroll through the charming streets and visit the many beautiful shops.
And there are the many nearby state parks – Russian Gulch State Park, Jughandle State Park, Van Damme State Park
MacKerricher State Park, and Caspar Headlands State Natural Reserve all of which are a close drive from the Albion River Inn.
If you take 128 from San Francisco to get to the Albion River Inn, you will drive through Navarro River Redwoods State Park. The Park has been called an "eleven-mile-long Redwood tunnel to the sea."
This 14,000-acre preserve is like walking through a portal into a world where everything is giant and green. The woods are full of ferns adorning mossy trails. We are captivated by the intense play of light and shadow in this magical forest.
A scenic wonder and perfect, romantic fairy tale setting! So come and visit us, surprise your loved one with an invitation to the type of tranquility where you do not only find yourself but each other.
Photo Credit: Bottom right photo Rita Crane Photography

WATCH THE SUNSET WHILE SITTING ON YOUR PRIVATE DECK WITH THE PERFECT VIEW
What majestic sunsets we have at the Albion River Inn. Watching the play of beautiful colors on the sky above the Pacific ocean – certainly ends the day most romantically. So, in the Valentine Day's spirit, now or any other time – come to the Albion River Inn. On the Mendocino coast, poets know it, song writers, artists, all of us know it: Romance is in the Air.
To keep up to date on Albion River Inn blog posts, be sure to follow us on Facebook and Instagram.
Who can resist a romantic getaway? See you soon!
~Albion River Inn